Today is
May Day
. For me this signifies one thing: a spring celebration involving grade school kids dancing and weaving ribbon around a
Maypole
.
I've always wanted to do that and I have no idea why. I think as a child, I was relegated to the sidelines and forced to watch other kids do the dance and weave. Ever since then, I've unconsciously felt deprived as if I've missed out on some amazing life experience.
(Whoa, dude! Lay off the sauce Abnormal Psychology homework.)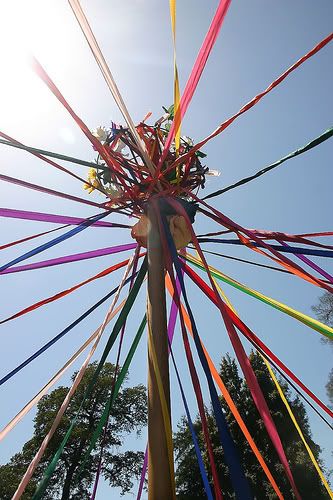 In all seriousness, May 1st means only one thing to me…
only two days until my birthday!
This May 3rd is a little more special than all the other May Thirds I've experienced because
Mayday! Mayday!
My roaring twenties are about to come to a screeching halt as I'm turning the big Three-Oh!
I don't feel old, but I seem to be morphing into an old fart as we speak. That's what happens, right? All week my body has been undergoing changes in preparation for Saturday's transformation into Old Hag Levingston. Every day I'm waking up crabbier and crabbier, nearly murdering James over an early-morning butt pinch.
So what are my big plans to ring in the new era?
Nothing.
Zip.
Zilch.
Nada.
And that's all I have for this post. I think I just wanted to announce to the world that my birthday is almost here.
------------------
Listening to:
Gnarls Barkley – Charity Case
------------------